Ranbuild kits come complete down to the last washer. The galvanised steel components simply bolt together for easy self-assembly. The result is a long lasting, low maintenance structure that's also cost effective.
Columns are anchored to the concrete foundation with our unique cast-in stirrups.
The modular system allows you to customise the building to suit your needs. Meaning you can easily add accessories such as doors, windows, or even add in openings for more customized options.
Choose a roof pitch to suit your location and create an appealing profile, we have a range of options from 10° right up to 27.5° on our barns.
Choose cladding from the extensive range of durable and attractive COLORBOND® or ZINCALUME® steel. Framing and cladding materials are guaranteed by BlueScope Steel for up to 15 years.
In 'Deluxe' buildings, the preformed steel apex and knee plates are designed to be securely fastened with high tensile steel bolts. In the 'Super' designs, components simply screw together. This means there's no need for welding.
Our engineers check every drawing to ensure the shed is designed for the right location, whether it be for a sheltered shed in suburbia or in the open in cyclonic region, you know your shed is going to be designed right.
Optional extras includes awnings, annexes, windows, doors, skylights, insulation and ventilation items. Just about everything you need to personalise your shed.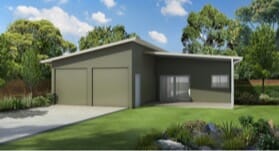 RESIDENTIAL
Take a look at our range of Sheds, Garages, carports, using quality Australian made materials. With options that include annexes, awnings, windows, roller doors and many more.
RURAL
With both American and Australia style barns, hay sheds, machinery storage, and more, in both open and enclosed designs, get a design perfect for your needs.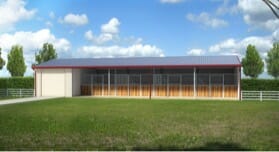 EQUINE
Our range of horse sheds for riding arenas, paddock shelters, stables, and barns with panels and a range of doors for all your needs. Find out more about how we can help care for your animals with a great shed design.
COMMERCIAL
Heavy duty construction for high quality industrial needs, including warehouse, factory, and aircraft designs. Take a look at our extensive range of commercial sheds.