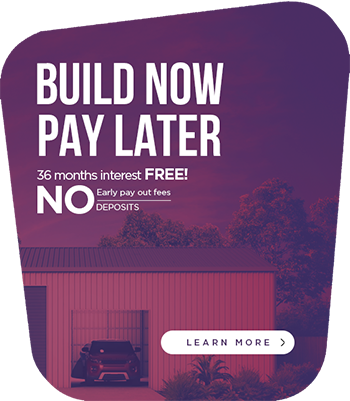 YOUR ONE STOP SHOP
Let us manage it for you, from shire application right through to pouring the concrete for your slab and installation.
Buy Now. Pay Later. Breathe Easy with Interest Free Finance.
Look no further than Spinifex Sheds!
We don't just sell you the kit and send you on your way, we will manage the entire project so you don't have to worry. We do it all from shire applications, pouring the concrete floor and installations. We will even remove all left over rubbish from site, which surprisingly isn't included in most installation jobs. If you want to DIY, we can also sell you our sheds in kit form complete down to the last washer with a comprehensive installation guide.

Highest Quality
Backed by Ranbuild and Bluescope Steel, we offer you the highest quality steel, guaranteed to be 100% Australian made.

Hassle Free
At Spinifex we don't just sell you a shed. We can provide you with a complete experience, from site work to construction, we can even do your shire applications for you.
Fully Customisable
With a wide range from caports, sheds, garages right up to large industrial and Commercial jobs our range is fully customisable to suit your individual needs.
Construction Background
With over 10 years construction experience and a background in concreting, we are here to help.
Perth's Leading Shed Specialists
Spinifex Sheds are Perth's Leading Shed and Concrete Specialists. From residential home, rural, small business, commercial and equine sheds made from Australian Bluescope steel, and a range of Colorbond ands Zincalume materials. We can guarantee the highest quality sheds with perfect, custom designs for your needs. Partners with Ranbuild, we are known for our consistently high standards in delivery, service and build.
YOUR LOCAL RANBUILD DEALER, HIGH QUALITY GUARANTEED
Partnering with Ranbuild and backed by Bluescope steel warranty your sheds will be of the highest quality. manufactured from the finest grade Australian steel products for added strength and durability. Framing and cladding are guaranteed by BlueScope Steel for up to 15 years. All designs are fully engineered, every job, every time.
Featured Articles
Mike Sheppard
I needed a good mans shed for my backyard. I dealt with Steve who assisted me with the whole project from shire approval, concreting and erection. I was so impressed with the Ranbuild process that I suggested my son take on the Ranbuilt franchise. Great sheds, great quality but most of all priority customer service with ethics.

Kerry Busby
Simon built my shed earlier in the year, from start to finish the whole process was easy.Simon took care of everything from planning, concrete to construction.The end result is pefect i couldn't be happier.I have no hesitation in recommending simon and wouldn't go anywhere else if i needed another shed or concrete work.Cheers for the great job Simon

Glen Alderton
Mike Sheppard
I used Simon from Spinifex shed / Ranbuild and can recommend them. I needed a good mans shed for my backyard and Simon assisted me with the whole project from shire approval, concreting and erection. I was very impressed with the finished product and the quality of workmanship from the installers was second to none. They went out of their way on the fiddly cutouts around columns and trusses, something that I have not seen in a long time.

Mike Sheppard

S Carrick
Simon was very patient and helpful from first contact through the design and approval stages. sub-contractors used and other trades recommended were all really good - very happy with the service provided and the final product.

S Carrick