Fire Resistant Sheds
Building fire resistant sheds across Perth & WA regions
At Spinifex Sheds, we don't just design and build the finest sheds from the highest quality Aussie materials for the regular home. We also design, supply and install fire-resistant and bushfire ready sheds using the latest high-tech materials and systems to protect your assets in the event of fire.
It seems like we get more, and worse bushfires every year. Early this year (2021), the bushfires around the Perth Hills, Gidgegannup and surrounding areas cost over 86 homes. There's never been a better time to make sure your home, property and shed are up to scratch.
Here at Spinifex, we only use premium shed materials from the most respected suppliers. Specifically, we use Bluescope's steel framing and Colourbond cladding. All of our steel shed materials are Australian designed and made.
The Building Code of Australia requires buildings constructed in Bushfire Prone Areas to meet certain Bushfire Attack Level assessment requirements. This essentially means that the shed you build in a bushfire prone area has to be of a certain bushfire-resistance level to meet guidelines.
We don't just build sheds, we take care of the entire process from planning, to council approval, pad laying to final install. We offer a complete end to end solution, which includes understanding exactly what BAL level your shed needs to comply with, and making sure your shed is capable of protecting your assets in the event of a bushfire.
Read moreRead less
Fully Customizable
Extensive Accessories Range
Single & Double Skillion Roofing
Colorbond® Steel Cladding
Double Story, Mezzanine Floors, High Roofs
Australian Made & Built
Fully Customizable
Extensive Accesories Range
Double & Triple Skillion Roofing
Colorbond Steel Cladding
Double Story, Mezzanine Floors, High Roofs
Australian Made & Built
What makes Spinifex Sheds fire resistant?
Not all of our sheds are resistant to fire, however we do use the same high quality steel cladding and framing for all our sheds. Our ability to design and build fire-resistant sheds comes from our understanding of best building practices around bushfire-safety, and the use of high quality insulation materials.
Much of ensuring a shed is fire-resistant and of an appropriate BAL-rating is choosing the right insulation and installing it correctly, choosing the right door and window fittings, and maintaining correct fire breaks around the shed.
We've designed countless sheds over the years, including fire resistant sheds in bushfire prone areas. We've even designed sheds in recent years that stood the test in the February 2021 fires, where older sheds built to a lower standard did not.
Read moreRead less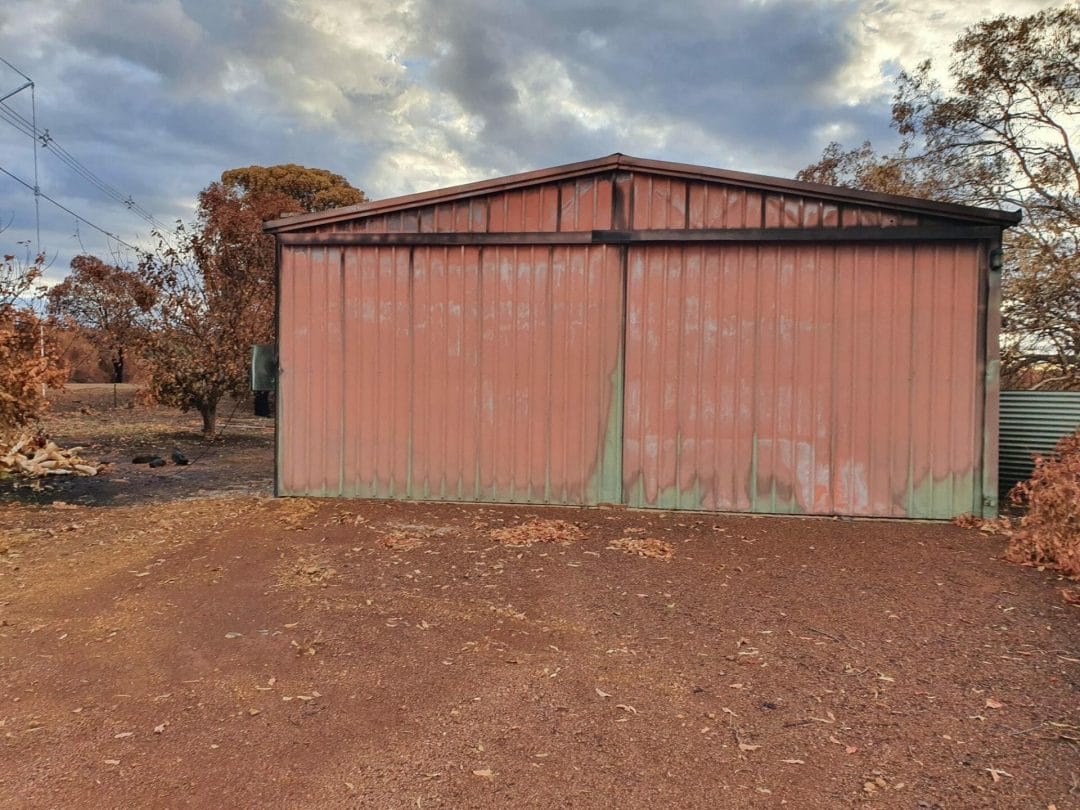 What BAL level shed do I need?
The requirements for your shed will depend on an independent BAL assessment of the proposed construction location. This takes into account things like surrounding vegetation and the natural lay of the land.
We can deliver sheds that meet BAL requirements of any level up to BAL-40 quite easily, however we often suggest that where possible and financially viable, build a shed that is of the highest BAL rating possible. Bushfires are becoming all too frequent, and making sure that your shed is up to scratch protecting your assets is as critical as ever.




SHIRE APPLICATION

CONCRETE

BUILD

CLEAN UP

20 Years Warranty*
At Spinifex Sheds, we will look after the process of building from beginning to end so you don't have to stress. If you're just in the planning stages, we will come out to you and give you a free on-site quote with the best possible price.
If you need help deciding which shed is right for you and your property, our experienced staff can answer your questions and show you through the range of options available. With nearly a decade of experience building premier residential sheds, we are able to offer you sound advice.
Our friendly staff will help you with shire applications before the building process begins. Then we will handle the foundational concrete and building process. Unlike a lot of other companies, we will also clean up the site so you don't have to worry.
Our residential sheds are backed by upto 20 years of warranty* for your peace of mind. We're committed to building high-quality sheds that are a valuable addition to residential properties and stand the test of time.
Read moreRead less
Don't take a chance with low-quality sheds
A good shed built to fire-resistant guidelines is capable of protecting your assets, like cars and property, in all but the most extreme fire storms. Here at Spinifex Sheds, we've proven our ability to design and install sheds that will stand the test, and protect your belongings as best as possible.
Working with us means you'll get to enjoy an easy, experienced and smooth process from initial discussion and design all the way through to handover. We go above and beyond, from ensuring your foundation is perfect to leaving the site spotless at the end of the job.
So if you need a new shed to replace one that didn't make it, or you're looking at building a new shed and want it done right, call us today.
Read moreRead less
YOUR LOCAL RANBUILD DEALER, HIGH QUALITY GUARANTEED
Partnering with Ranbuild and backed by Bluescope steel warranty your sheds will be of the highest quality. Manufactured from the finest grade Australian steel products for added strength and durability. Framing and cladding are guaranteed by BlueScope Steel for up to 20 years. All designs are fully engineered, every job, every time.










Featured Articles

Bradley DeBoer
Simon from Spinifex sheds was great to deal with he organised and dealt with everything from design and council approval to installation and site clean up.Would highly recommend Spinifex sheds to anyone.Bradley DeBoer

Sebastian Locke
Spinifex have just completed our shed a few weeks ago. It is a well built, good structure and a good looking shed. I would like to say that Simon was very easy to deal with, schedule was as good as it got based on weather and the whole process was smooth. His team was friendly, professional and competent. I would recommend Spinifex Sheds if you need a shed like mine.

Sebastian Locke

Steve Morley
Very impressed with Spinifex Sheds. From the first site visit and quote to the final site clean. Simon, Brian and Alan kept me informed through the whole process, exhibited excellent trade skills and always conducted themselves professionally.Thank you Simon and Spinifex Sheds

Steve Morley

Richard Teasdale
Simon and the team at Spinifex Sheds delivered exceptionally - from initial design, council approvals, slab installation, construction and removing leftover materials - everything ran to schedule, customer service was very attentive and the build quality is solid. The shed looks great, thanks very much Spinifex, you provided a terrific product and service.

Richard Teasdale

Kim Rutland
Excellent workmanship, professional and the shed went up very quickly once council approved. We are very happy with our quality shed.

Kim Rutland

Simon built my shed earlier in the year, from start to finish the whole process was easy.Simon took care of everything from planning, concrete to construction.The end result is pefect i couldn't be happier.I have no hesitation in recommending simon and wouldn't go anywhere else if i needed another shed or concrete work.Cheers for the great job Simon

Glen Alderton

Mike Sheppard
I used Simon from Spinifex shed / Ranbuild and can recommend them. I needed a good mans shed for my backyard and Simon assisted me with the whole project from shire approval, concreting and erection. I was very impressed with the finished product and the quality of workmanship from the installers was second to none. They went out of their way on the fiddly cutouts around columns and trusses, something that I have not seen in a long time.

Mike Sheppard

S Carrick
Simon was very patient and helpful from first contact through the design and approval stages. sub-contractors used and other trades recommended were all really good - very happy with the service provided and the final product.S Carrick