Spinifex Shed's BEST Garage Storage Ideas for 2022
All the gear and no idea?
No idea where to put it all that is.
It's a hard life not having enough space to store all your stuff.  
Your house, shed, or garage starts to build up with things, stuff, parts, 'junk' and clutter with little to no room to move.
At Spinifex Sheds, we understand shed space is a serious business.
So, we thought you could use a little inspiration.
Head on below for a list of some of our favourite creative storage ideas to help create space for your things in your shed or garage.
Garage Storage Ideas
Rake Rack
Trouble finding your broom, rake, or shovel? Are they taking up space in the corner of your garage or shed? Utilise your vertical wall space by installing a rake rack. A similar idea to a hat or coat rack, this great little storage hack allows you to get things up off the floor and out of the way, ready to go when you need them next.
 

 

View this post on Instagram

 
Pegboards
Often underutilized as a storage solution, pegboards are a cheap, versatile option for organising your tools. Pegboards feature pre-drilled holes strong enough to support the weight of most household hand tools making them easy to find and readily accessible. All you need to do is fasten a pegboard panel to your wall at the size of your liking, screw in some hooks, and Bob's your uncle. It's important to note that the thicker the hardboard the heavier the items your pegboard can handle. So, if it's heavy tools you're looking to hang then you're better off going for a thicker option from the start.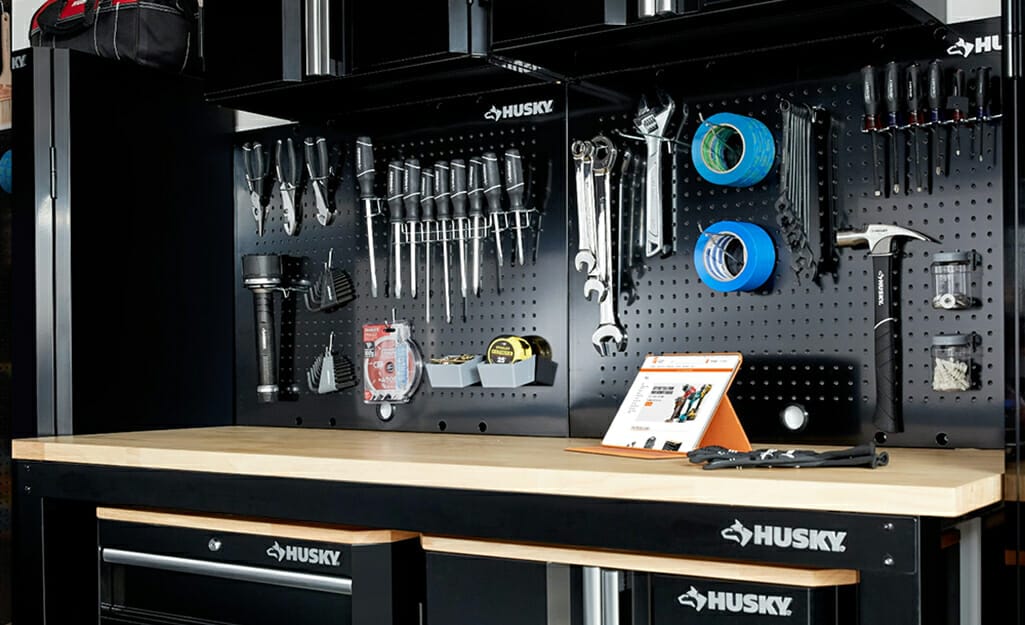 Credit: Home Depot
Garage Corner Shelves
So, hear me out for a second. You're probably thinking to yourself – shelves? I already have shelves. But what about the corners? Often space in shed corners becomes a dead zone for tools you don't often use. This clever little corner shelf unit is fast, easy, and cheap to make. All you require is some scrap plywood and some 1×1 cleats for supports to make shelves that fit snugly between the corner studs. This unit is ideal for storing small items such as glues, cleaning products, spray cans, oils, and more, that often get lost around the shed.
Credit: Family Handyman
Garage Storage Cabinet – Repurposed Dresser
Do you have an old chest of drawers lying around that isn't getting any love? Instead of spending thousands on a brand-new storage cabinet, why not keep your tools safe and secure by repurposing your old drawers. A few little tweaks and a couple of coats of paint are all you need to turn your old chest of drawers into a fully-fledged toolbox or storage cabinet.
Overhead Storage
Get those light to medium seasonal items up off the floor and onto the ceiling by installing a ceiling garage storage system. Whether it's Christmas decorations, camping gear, or old kid's toys, get those plastic storage bins off the floor and out of the way. With just a few handy tools and some cheap materials, you can even DIY.
Credit: Family Handyman
Garage Storage tubes
Cardboard forming tubes are cheap, easy and a great place to store your long-handled tools, piping, and timber. Just fix the tubes to the wall of your garage with a piece of 50x100mm lengths underneath to keep them off the ground. Or if space is limited, you can fix them up onto the roof with a few plumbing straps to keep them secure. Whichever way you decide to go, this great little storage hack will help maximise garage space and keep your longer items safe and secure.
Credit: CNC Cookbook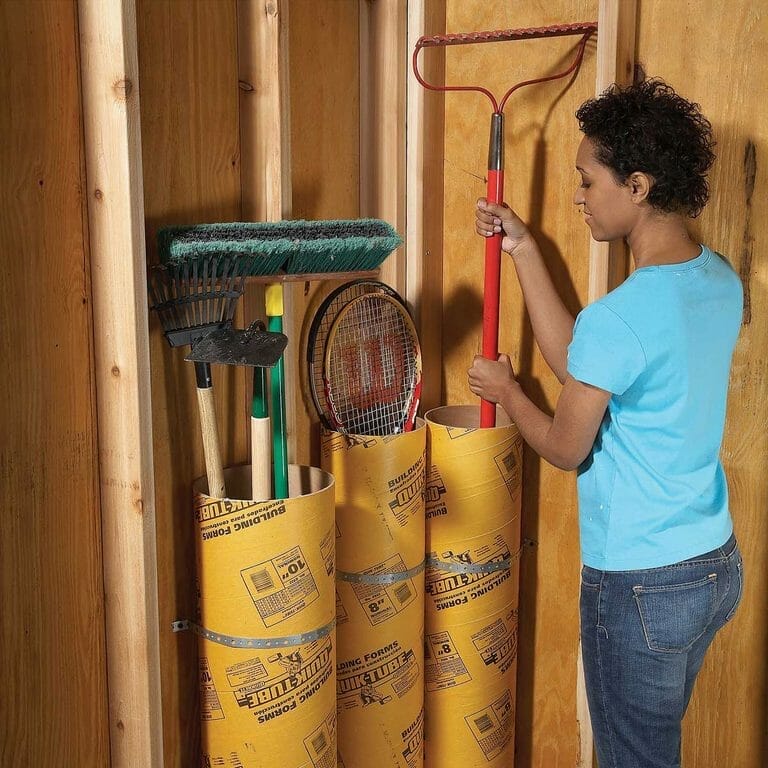 Credit: Family Handyman
Bike Storage Rack Wall Mount
Maximise wall space by moving the family's bikes off the floor and out of the way with a vertical bike storage rack. Not only do you keep each bike in peak condition and out of harm's way, but you can store multiple bikes while taking up minimal wall space. This storage hack is best suited to larger garages or shed options so if you are stuck with a tight 2-car garage it's either time for an upgrade or probably not for you.
Credit: TwoWheelingTots
Spray Can Rack
If you don't have enough room for a cabinet or shelves to store your glues and spray cans, then a spray can rack may be the go. Perfect for that little gap between the shelves and the door jamb, this neat little storage unit utilises what would otherwise be considered dead space in your garage.
Credit: CNC Cookbook
Space-Saving Sliding Shelves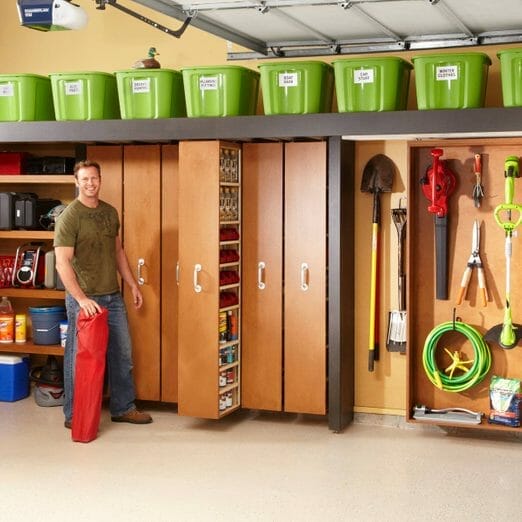 Credit: Family Handyman
The More Space the Merrier
While you could try maximising your existing space, wouldn't simply having more space work better? If you have room to move and feel your existing shed or garage doesn't quite cut the mustard, then maybe it's time to look into investing in a bigger shed.
If you find you have more stuff than space, having a bigger shed or garage can help:
Declutter your home

Improve organisation (easier to find things)

Keep the family safe (keep dangerous tools out of reach from children)

Boost your properties value

Protect more expensive toys (cars, jet skis, motorbikes, etc).

Double as a workspace
At Spinifex Sheds, we build fully customisable sheds engineered to suit your needs. 
We pride ourselves on providing complete, comprehensive, end-to-end service – start to finish.
From handling the smooth transition of shire applications, compliance agreements, and building permits, to pouring the concrete flooring; fully customisable installations, right down to removing leftover rubbish when we finish up.
With over a decade of construction experience and the reassurance of a 20-year pre-approved warranty guarantee, we are committed to building you the highest-quality Australian-made BlueScope steel shed at the best possible value.
For a quote or more information on how we can help get you into your new shed, give us a call at (08) 9390 4662.
Today, we explore eight innovative and practical shed lighting ideas, plus tips on how to choose the best lighting option and running power to your shed.
Today, we will explore the 6 questions you have to answer when deciding what size shed to build. These will ensure you make the most out of your space & money.
Getting a new shed? Today, we'll break down the various steps involved in building a shed and provide you with an idea of the time frames for each.