What is a shed office and why do you need one?
Yep, it's exactly what it sounds like: a shed with an office or studio set up inside. But it's not just a matter of wedging a desk between the lawnmower and fertiliser in your garden shed—it's about setting up a dedicated space to work from home without the usual distractions like pets, kids, or your dodgy housemate Ned.
Getting yourself a home office shed is a great way to separate yourself from that lot and get your work done distraction-free.
Not just a utility shed
Now, don't go thinking that a shed office is just your regular storage space with some office furniture thrown in. It's a true blue workspace you can use for pretty much anything job-related, from a proper admin space to a full-blown creative studio.
To make it the real deal, you'll need to connect your essential office utilities like power, internet, and maybe even water. These days you don't really need to stress about getting a new landline put in—thanks to all the you-beaut tech out there, you can access the internet wirelessly from pretty much anywhere.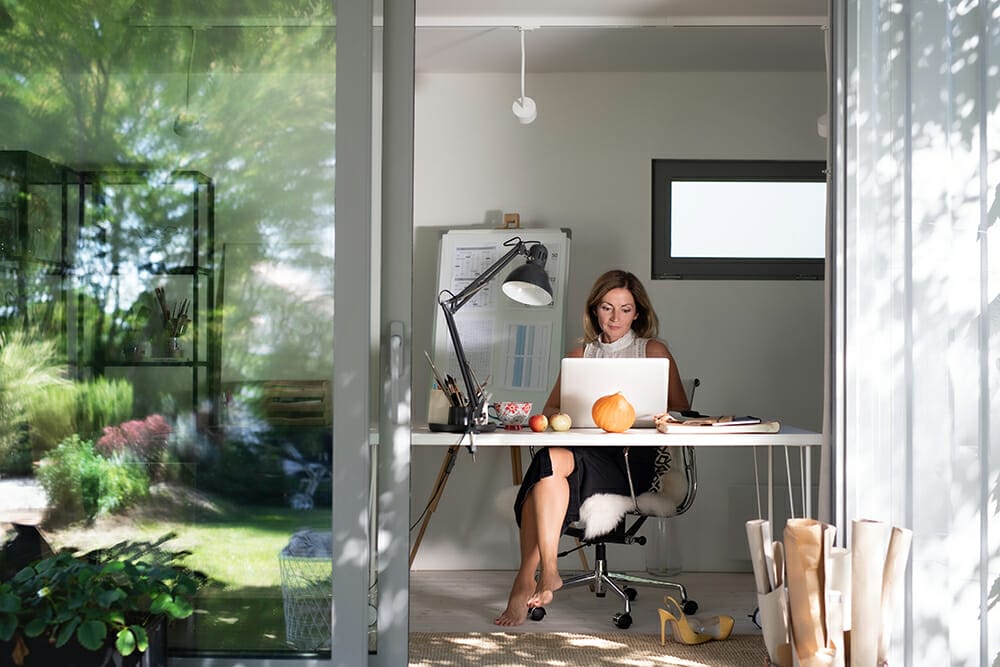 Better than your mate's home office
These days home offices are more popular than ever, but we don't all have a space in our house to set up the necessary gear to do our jobs properly. If you're sick of working from your laptop at the dinner table or you've finally accepted that the spare bedroom isn't far enough away from the noise of your household, it's high time to get yourself a better setup.
A shed office is a brilliant way to carve out a dedicated space while you're in 'work mode' at home, whichever industry you work in. It's your very own private, distraction-free spot to really get stuck into your day-to-day work.
Another bonus: you can fully customise your backyard office or studio shed to do everything a home office can and more. You could even go large and still have enough room for a section to store your tools and other gear that needs to be out of the way while you're not using it.
Easy on your wallet
A shed office is massively cheaper than a commercial premises, so it's a great option for small businesses to save money while still having a professional and dedicated space to work, and even to have clients visit.
You can also get your backyard office or studio shed fully insulated, so you won't have to pay too much for heating and cooling. Plus you'll do away with most other expenses that come with running an office space, like cleaners, building maintenance, etc.
Easy on the eyes
Another great thing about an office shed is that it can look like pretty much anything you want. A good custom shed provider will work with you to engineer the perfect design for your needs, using computer made 3-D models to get everything just right before it's manufactured and installed.
If you have the space, think outside the box and create an office shed that really suits your needs and complements (or contrasts) your house.
Kit out your shed office with windows and skylights for a bright and airy place to work, or keep it dark and moody if you need low-light for, say, developing photos in your own professional lightroom.
Boosts your property's value
This is a well known fact – sheds always boost a property's value. Every real estate agent will agree that homes with sheds are more desirable and sell for a higher price tag. A shed office is a good long term investment that will reward you even after you leave it behind. 
Make sure you go with a professional shed builder that will put together a solid long-lasting shed office made with quality materials. The last thing you want is a cheap shed that rusts quickly and loses value. 
Easy on your health
Speaking of natural light and fresh air, a lot of people actually find that having access to both really helps them stay energised throughout their workday. It's so easy to design your own custom backyard office to maximise these things compared to finding a space inside your house.
Another thing is artificial light—it can have a pretty big impact on your health in the long run. Working in areas without much natural light, like a home office in your basement, can prevent you getting enough vitamin D from the sun (which is big for our mental health) and relying fully on artificial light can cause issues with things like eye strain, headaches, migraines, etc.
Easy on the environment
Setting up your home office inside a purpose-built shed out the back can even bring added benefits for old mother nature. Whether you're a big greenie or not, lots of the above benefits can have the added bonus of reducing your carbon footprint. Every little bit helps when it comes to helping our planet and our kids' futures.
You could even get solar panels installed up top. That's a win-win—offset your already low energy costs and give the main power grid a hard-earned rest while you're at it.
Conclusion
In the end, it all comes down to one thing: getting your work done. A shed office lets you work separately from your main house without the extra costs and commute times of getting into a commercial premises.
If you're sick of distractions in your home office or don't have one yet, don't put up with it any more! Have a look at the top quality custom built sheds we can do for you here at Spinifex. Don't have enough backyard space? Suss out your new garage shed office instead.
All our sheds are 100% Australian built using Australian BlueScope Steel, so you know they're built to last. Take a look today and get in touch for a quote!
Today, we explore eight innovative and practical shed lighting ideas, plus tips on how to choose the best lighting option and running power to your shed.
Today, we will explore the 6 questions you have to answer when deciding what size shed to build. These will ensure you make the most out of your space & money.
Getting a new shed? Today, we'll break down the various steps involved in building a shed and provide you with an idea of the time frames for each.