Australia's All-Time Favourite Shed Designs
Us Aussies are good at sheds. And it's not hard to see why.
With large backyards, always a ton of gear lying around, and hobbies that leave you dripping with grease and oil stains on your shirt, it's no wonder there are so many shed designs to choose from. And lucky for you, there are an equal number of shed companies like us, who will make the whole dream a reality.
The almighty shed takes on many forms in Australia, with each design fulfilling a range of different needs. If you need one, it's good to know what shed designs are available and which one is right for you.
Here at Spinifex Sheds, we've basically seen it all. But today we will focus on five shed designs Australia is best at.
Storage Shed
Another common type of shed design – the storage shed is the ultimate solution to decluttering your home. If you're beginning to notice things building up around your home, it's probably time to think about investing in one of these sheds. Storage sheds come in all shapes and sizes, depending on the types of things you're looking to store. They can be open plan and provide the optimum amount of space to safely store your goods.
Storage shed designs can be enhanced with mounted storage units, or shelving, helping to compartmentalise your goods in the shed, and ultimately making them easier to find when you need them. If you only have a small amount of equipment, you may benefit from a small preconfigured shed for your backyard.
Auto/Garage Shed
Auto sheds or garages sheds are typically designed to house your pride and joy, and all the gear you use to keep that baby running like the wind. This means they need to be of adequate size to accommodate your vehicles. Depending on the size of the shed, you may also have room to add a workbench. These sheds can be single-car bays or double garages and may also feature windows, roller doors and other garage accessories.
If you've already got a garage, you might be looking to install a car hoist to get underneath your car so you can get some proper work done. If you're looking at adding in a car hoist, you'll need to ensure that your shed is built at the appropriate height to raise the car to a suitable level. Looking to build the auto shop you've always wanted? Check out our article for more information on the right shed height for a car hoist.
Garden Shed
As the most common and usually the most frequently used shed in Australia, the humble garden shed is often home to a wide variety of gardening tools and supplies. The benefit of these sheds is that they are quite compact and able to fit into quite small backyards or gardens. Depending on the size of the garden shed, and your specific needs, these sheds may also double as a small workshop, perfect for minor repairs or DIY projects. You may even pick up a few extra hobbies as a result!
If you're a self-confessed gardening fanatic, chances are you will have accumulated a fair amount of gardening equipment over time. Garden sheds are perfect for storing equipment and keeping all your tools and supplies in one place. This helps declutter the yard and improves the overall appearance.
Equine Shed
Equine sheds are designed to house horses, keeping them protected from the elements, and allowing them to maintain a healthy and happy lifestyle. Equine shed designs feature stable doors and panels, allowing easy access in and out of the space. Horses also benefit from the open ventilation that most equine sheds provide. Equine shed designs often have a "run-in" shed, allowing them to enter and exit the shelter whenever they please.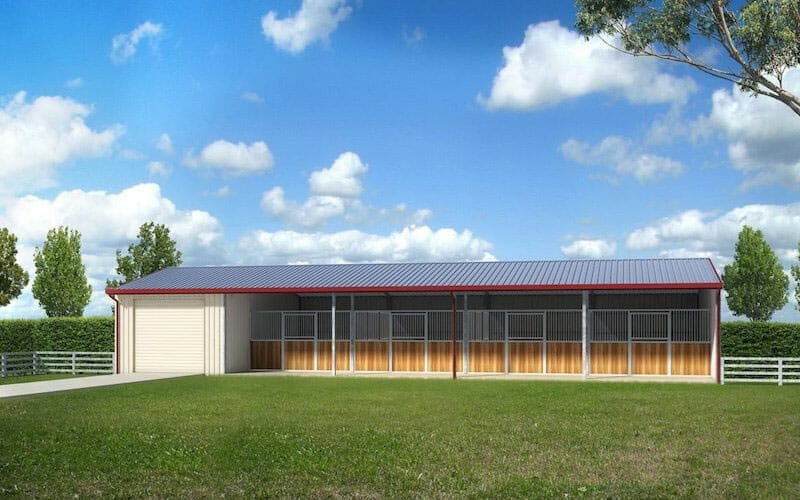 Equine shed designs can also encompass stables, allowing horses to stay clean while making life easier for their owners and grooms.
Custom Shed
While these different shed types might be ideal for their respective purposes, and meet the needs of many, these standard shed designs aren't going to cut it for everyone. The way you plan on using your shed will most likely be unique and to fully meet your needs, a custom shed design is often the best solution.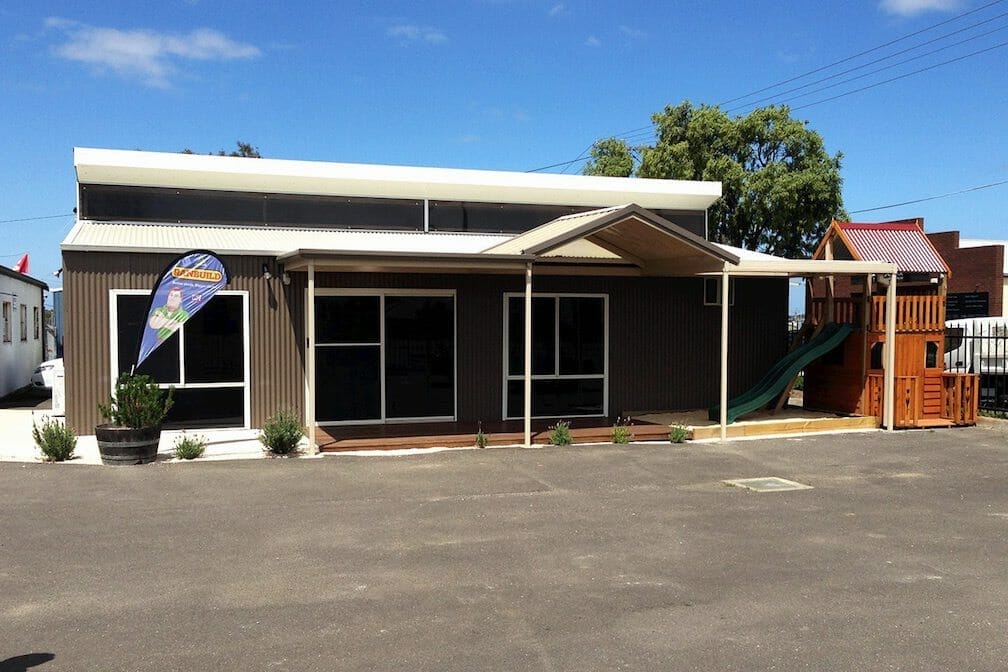 Our team at Spinifex Sheds can help you move beyond traditional shed designs and deliver a high-quality custom design to suit your needs.
No matter the purpose or inspiration, we can help you design and install the shed for your specific requirements. We'll even guide you through the whole process and produce 3D designs for you to approve of before we get to work on constructing the shed. All of our custom sheds are built with the highest quality genuine Australian steel, helping to prolong the life of your shed for many years.
How Do You Style a Shed?
Got a shed design in mind but unsure how to style it? Here are a couple of ideas to get your inspiration flowing:
Use vines and creepers to integrate your shed into your garden
Paint your shed to complement your house, garden colours or fence
Get creative with a stone pathway leading to your shed door
Play with lighting to make your shed a spectacle both during the day and at night
WHAT IS THE CHEAPEST TYPE OF SHED TO BUILD?
Many factors come into play when determining the price of a shed. Sure size matters, but when it comes down to it, price depends on the quality of materials, construction costs, the space itself, and whether or not it's a custom shed design. Check-in with our team to compare quotes, or read our blog to learn more about comparing shed quotes.
Is It Cheaper to Build Your Own Shed?
Short answer: no. Sheds aren't just difficult to build, but they can also become time-consuming projects that can leave you tearing your hair out, not to mention wrestling through a sea of red tape. It's always cheaper (and way easier) to get it done with the pros.
Spinifex Sheds
Sheds are used for countless different purposes, and our experienced team are here to help West Aussies with their shed needs. We take great pride in our 100% Australian built sheds, undertaking work for a huge number of clients. If you're looking for commercial, industrial, storage, equine, garage or custom-built sheds, Spinifex is the name to remember.
Call us today on 9390 4662 for an accurate on-site quote for your job.
Today, we explore eight innovative and practical shed lighting ideas, plus tips on how to choose the best lighting option and running power to your shed.
Today, we will explore the 6 questions you have to answer when deciding what size shed to build. These will ensure you make the most out of your space & money.
Getting a new shed? Today, we'll break down the various steps involved in building a shed and provide you with an idea of the time frames for each.