Shed Heights and Car Hoists: The Breakdown
Love working on your car, but hate crawling around in the sludge or getting brake fluid all through your hair and oil in your mouth? With today's pricing and range of options, there's really no reason not to have a car hoist if you're even half serious about your rig. You can fit 'em into an existing shed, or just go the full mile and have a brand new shed designed around your ideal hoist.
If you're someone with a passion for vintage cars, a mad obsession with motorsports, a drifter with a serious problem, a garage mechanic, or just someone that likes to look after their daily driver, a hoist is an investment worth every cent. They'll give you space, options and keep your beer fridge full (or empty) from your mates coming over way too often. Did we mention they're actually affordable?
But one thing does pose a problem for many people and that's figuring out exactly what shed size they need.
Contents:
WHAT SHED DO I NEED FOR A CAR HOIST?
In this article, we're going to answer exactly this. Because it's not quite as simple as a short and sweet "your shed has to be 2.1 metres high". There is a range of different hoists, and a couple of different ways to get them to fit into a shed. We're going to break down exactly what hoist you need for what job, and what size shed you'll need to fit it in.
To do all that, we've teamed up with Garage Equipment, who have a vision of supplying quality equipment for workshops at a competitive price. They're based all around Australia, but in particular just down the road in Canning Vale, Perth. Having supplied hundreds of workshops with quality equipment over more than twenty years, they're your go-to expert for everything from hoists to pipe-benders, to oil-drains and tyre changers.
IN A RUSH? JUST WANT THE QUICK GIST? HERE'S THE BREAKDOWN
Garage Equipment offers quality workshop equipment, specifically, hoists.
We know how to make those fit in your shed, and convince the council to let you build it.
There's a hoist for every specific requirement, but in particular, there's 2 post, 4 post, clear floor, and baseplate.
The most common hoists for the home shed are the 4-tonne baseplate, the 4-tonne clear floor and the 4.5-tonne clear floor. They're all 2 post hoists.
The easiest hoist option that will still give you great access is the 2-post baseplate style.
The most ideal hoist, assuming you can get a big enough shed approved, is a 2-post clear floor.
BREAKING IT DOWN AND GETTIN' DIRTY.
Hoists, or vehicle lifts as they're sometimes called, were created because people grew tired of getting on their knees to work on cars. We've all been there, you spend hours crawling around under the car because a 5-minute job takes a whole lot longer when you can't see, reach or get your hands in. You finally get the rusted to hell nuts off, then the damn manifold won't come out anyway, so you lie on your back in a weird mix of rust, WD40, and tears. Crying for a little while.
Don't you love the old get on your knees, crawl under and give it a wriggle, then slide back out and come in from the top, repeat. Repeat until you either get it, give up or something else gives.
Here at Spinifex, we're pretty big fans of not getting oil up to the elbow trying to fish the sump plug from the drain pan. The last bit of oil that comes dripping out of the filter straight down your arm? Sure, you could love it, and there's nothing wrong with that, but it's never happening to us again! With a hoist, coilovers are now an hour's job. Timing belts aren't impossible (except maybe on a 2005 V6 Camry…), and changing the diff fluid might actually get done.
Maybe the best thing about a hoist though, is how easy it is to find where the oil leak is actually coming from, or what that strange clunking noise actually is. Hint: it's your subframe bushes.
TRANSFORM YOUR SHED
By now there are two types of people reading this article, those that are keen to transform their work process and workshop sheds to be easier and more efficient, and those that still think a trolley jack is just 'good enough'. Let's be honest, dropping a gearbox would be a whole lot easier if you could just lift the car straight off the ground once the box is free and properly supported. Or invest in a gearbox jack while you're at it and make it seriously easy.
One of the most frequently under-looked things about a hoist though, is how easy it makes looking under your car and working on simple issues. There's an incredible amount that gets missed when lying on your back or looking in. A terrible oil leak might turn out to be nothing more serious than a distributor seal, or you might catch a clapped out ball-joint just in time before it becomes a major issue.
Let's take a deeper look at the options you've got to transform the way you work on your car, your partner's car, your whole neighbourhood's cars. Because once word gets out you've got one, you're going to find yourself with a whole lot more friends. Your hoist might even pay for itself before too long.
TRY BEFORE YOU BUY!
If you're yet to experience the joys of using a car hoist, or just aren't quite convinced you need one yet – go try one out for yourself. Whether your rig just needs a regular service or something more serious like a clutch or timing belt change, our friends over at DIY Garage have got you covered.
They're an awesome business in Malaga offering hoist and work bay rentals at super affordable rates. With state of the art equipment, advice, and a generally great vibe, do your next job the easy way and try out a hoist.
 

 

View this post on Instagram

 
We guarantee you'll be back for a shed and hoist combo once you've given it a go, or at the very least found a way better way to get things done! They're open 7 days a week, with hours updated on Google Maps and Facebook. Just let them know who sent you!
2 POST OR 4 POST? BASEPLATE OR CLEAR FLOOR?
Just like there are all sorts of different makes and models of our favourite skid pigs and daily drivers, there are many different makes and models of car hoists, suitable for all different budgets and requirements. You got a quick overview at the start of the article, but there's a little bit more to it.
Think about exactly what you want a hoist for, and where you want to put it. If you're frequently dropping motors and gearboxes, you might want to think more seriously about a clear floor. While baseplates are the most economical, flexible option that fits in most places, you might find the baseplate becomes a headache if you're dragging a tool trolley or gearbox jacks over it all the time.
SO, WHAT SHED HEIGHT DO I NEED FOR A CAR HOIST?
Time to get the measuring tape out. Or grab the plans if you've got them handy and take a look. Is your shed or garage taller? Chances are there are a few different kinds of hoist that will fit in your space.
IF YOU JUST NEED SPACE FOR A SECOND CAR
4 post hoists are best for turning your single garage into a double garage. They give you quick access and they're great for storing your second car. Drive on and lift, drop and drive off.
You can still use them for mechanical work and access inside the wheel-wells with the use of a jacking beam, but the access is seriously reduced compared to a 2 post hoist.
For those of us who just want a place to stash that precious, precious Datsun 510, or your grandparent's vintage Merc that is actually appreciating in value with every day, 4 post hoists are your solution. It'll keep your pride and joy safe from bumps, scrapes, and spills. And dirty fingerprints.
BARE MINIMUM HEIGHT
Let's cut to the chase. What's the bare minimum shed height for car hoist projects? You can scrape through with 2324mm. At this height, you'll be able to fit the Ascenta 3500P in your shed or car garage. But like we said, that's the bare minimum – meaning at this height you'll only just be able to fit a low 4 poster hoist. This means you're still going to have to sit and work from a stool or swivel chair. Not your ideal hoist setup by any means.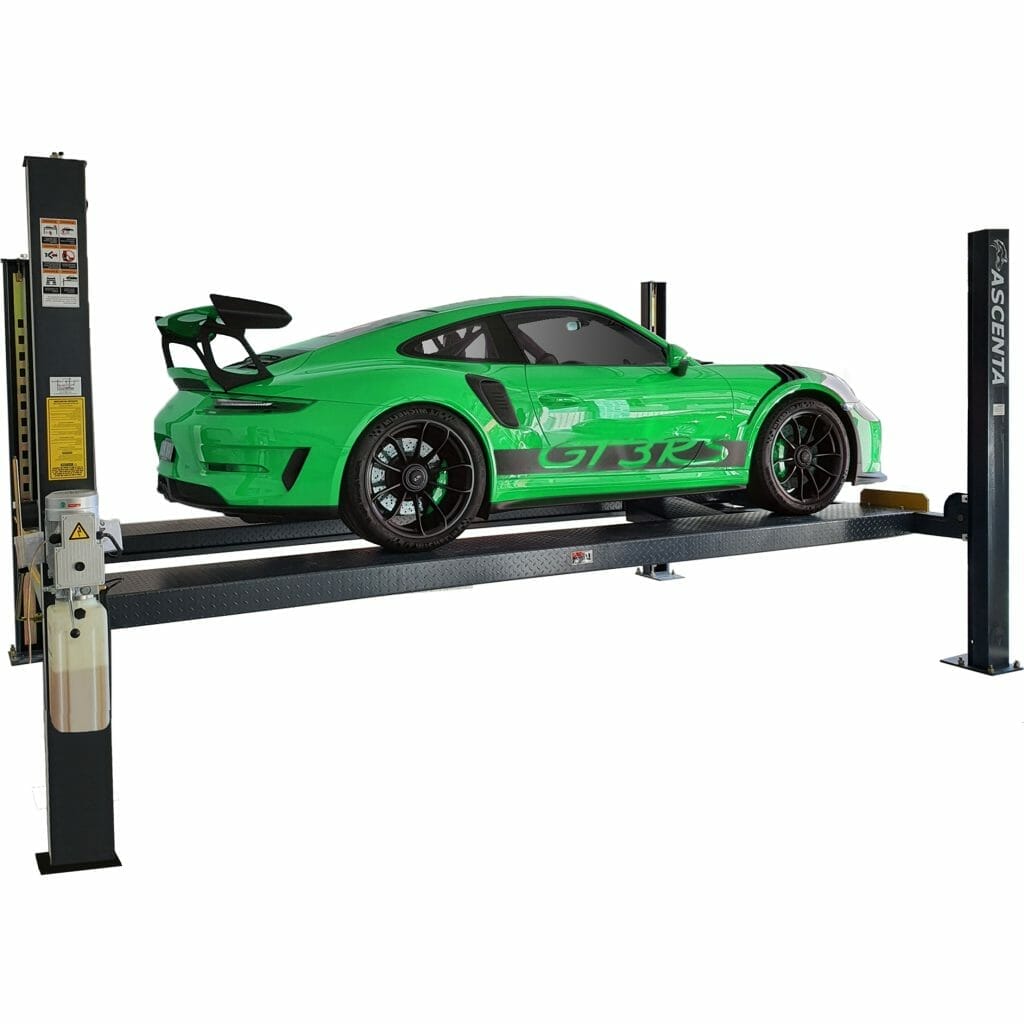 If just scraping by isn't your idea of having fun then you want the 4-tonne baseplate 4000BX. Why? Because you can fit it in your standard residential shed with a regular roof height. It's got a height of 2850mm and a width of 3460mm. Minimum concrete depth of 100mm, preferably 120mm. There's no need to over complicate your foundation with masses of reo. Just make sure it's good quality concrete poured by a reputable concreter.
If you're building a shed from scratch, and are dreaming of hoisting up your car as you crack open a cold Lemon Squash (checkout The Skid Factory for the reference), this is going to be your best bet. It might not be the ideal hoist, but it's going to do just about everything you want it to, and be the easiest of the full-size options to get approved.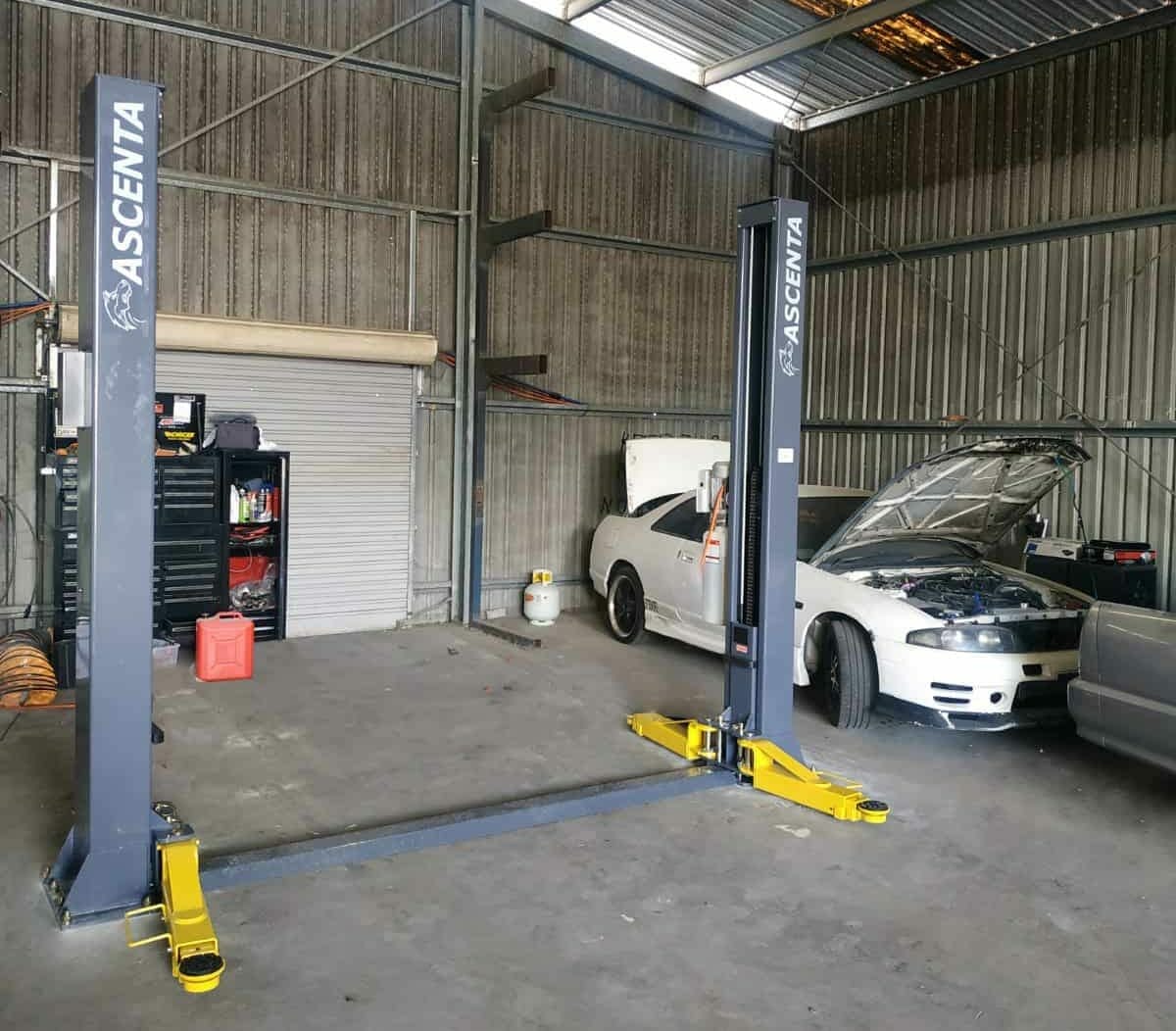 IDEAL HEIGHT FOR THE BEST HOIST
It's time to dream big. In an ideal world, you'll want the 4-tonne clear floor 4000CF. This is the most popular option, but unless you've got a particularly high roof or build your shed specifically to fit, you'll run into clearance issues at 3821mm high.
If you need a little more capacity, or just want your hoist a little beefier, there's the 4.5-tonne 4500CF and up from there. 3854mm high, 3516mm wide, you'll get 1915mm of lift.
The biggest hurdle with this hoist is without a doubt going to be council approval unless you live on a larger property where you won't get any dramas. For everything you need to know about getting started navigating the council approval process, check out our article on council approval for sheds.
So. You've got the right shed height for car hoist success, but what about the rest of the shed's dimensions and approvals you'll need to get this project off the ground? (Pun intended).
FOR THE 4000BX, YOU'LL NEED;
6m span
2840mm height required for the hoist
20-degree pitch
Which means your walls will need to be 3000mm.
And that's something we can get approved, no problems. So if you only need to lift a sedan, or don't mind working from a stool on something a bit taller, this hoist and shed combo will be perfect.
But this solution isn't going to work for everyone. Keep in mind that both of the above examples require you to stick the hoist right in the middle of the shed. If you're planning on having the shed parallel to the pitch of the roof or across, it's going to complicate things a little further.
4000CF 2-POST, CLEAR FLOOR HOIST
This is the one you want. You know it, we know it. It's the ideal clear floor, high lift, and relatively compact. With nearly 300mm of height adjustment you can tweak it a little to get it to fit, and it'll fit just about any reasonable rig with full headroom beneath for all except the NBA stars among us.
FOR THAT YOU'LL NEED;
About a 6m span- a common size we recommend pretty regularly.
With a 6m span, and 20 degrees of roof pitch,
And the hoist needing 3821mm (or3854mm for the 4.5 Tonne) of height,
The walls need to be 3500mm tall.
Not all councils in the metro area are going to approve a shed with 3500mm tall walls unless you're on an acreage. Having said that, it is possible but will require much more back and forth negotiation with the council, the goodwill, and approval of your neighbours, and a little bit of luck.
If you're seriously keen on getting the most ideal hoist in your shed, and you do live on a block that might not be the easiest to get it done, we can help. We've got a proven history of getting tricky builds approved. Not through loopholes or sketchy business, but good communications and negotiating with the council on your behalf, and obtaining permission from your neighbours.
If it's possible, we can get it done. Just call if you need a hand!
With a pre-existing shed, Garage Equipment recommends a minimum of 100mm of concrete depth for hoists ranging up to 4.5-tonne. You don't need to overcomplicate it with extensive rebar reinforcement or sunken stirrups. However, mounting points sunk directly into the fresh concrete certainly help, and if there's one thing you get right, make sure it's the strength of the slab.
A weak slab can (and will) result in your pride and joy taking an ugly nosedive, probably writing it off, ruining your new hoist, and if you're really unlucky – taking you with it.
For a new build, ensure the slab is 120mm deep and of good quality, and you'll be pretty well sorted. For some of the more intense hoists ranging up to 6.8-tonne, you'll need a little more- 185mm.
For more information on when and how to build the perfect slab, check out our other article on 'Should you build the shed before, or after laying the slab?'
By the way, we don't just build sheds. We also lay high quality slabs that are guaranteed to hold up.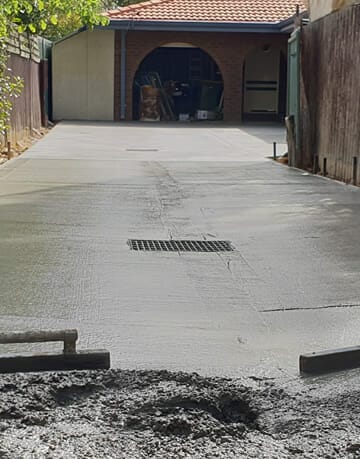 If you haven't got a shed, or your old one just isn't cutting it, the first thing to do is to jump on the phone with us.
Why?
We can design your perfect shed with your ideal hoist in mind. We'll also tackle the hurdle of getting it council-approved. We've got years of experience, and won't let a pesky little rejection stop us from trying an appeal, or considering other avenues.
But it doesn't stop there.
We'll look after the whole process from dirt patch to finished shop. This includes all planning, council approval, laying of the slab, building the shed. We'll also put you in contact with the right guys to install the hoist of your dreams.
Here at Spinifex, we're proudly Australian. That means all of our products meet the strictest local standards and are backed by warranties and guarantees that we're more than happy to put our name to.
So when you're ready to stop thinking about it and get it done, give us a call. We're ready to help you find the perfect solution for your needs.
Today, we will explore the 6 questions you have to answer when deciding what size shed to build. These will ensure you make the most out of your space & money.
Today we will compare two popular types of shed doors, sliding doors and roller doors. Discover their advantages and which type best suits your needs.
Today we are going to explore the best way to heat a shed in winter, highlighting the best options available on the market and their pros and cons. Discover what the best heater for your shed is and pay attention to the important safety tips and advice outlined in...