5 Keys to Choosing the Right-Sized Shed
When it comes to sheds, the possibilities are endless. It's an incredibly versatile structure that can be adapted to suit a myriad of purposes, depending on the required needs. Constructing a shed is a great way to add functional space to your property and can be customised to suit a number of budgets.  Now that you've decided on adding a shed, one of the most important decisions is size. It isn't always simple or straightforward to decide which size would be the most useful or appropriate. Here are a few key things to consider when choosing the right shed size.
Availability of Space
The first thing to consider is how much space is available on your property and whether the area is appropriate to install a shed. Ideally, the shed should be placed on a large, flat area of land that is clear of trees and vegetation. If no such space is available, the land around the home would need to be levelled and cleared of any obstacles which can add some additional costs but is something your shed manufacturer can help with. In addition, sufficient space around the perimeter on all sides for ease of access and maintenance. If you are unsure if your property has any suitable space, we offer a free onsite consultation to accurately assess and estimate the work involved for your location.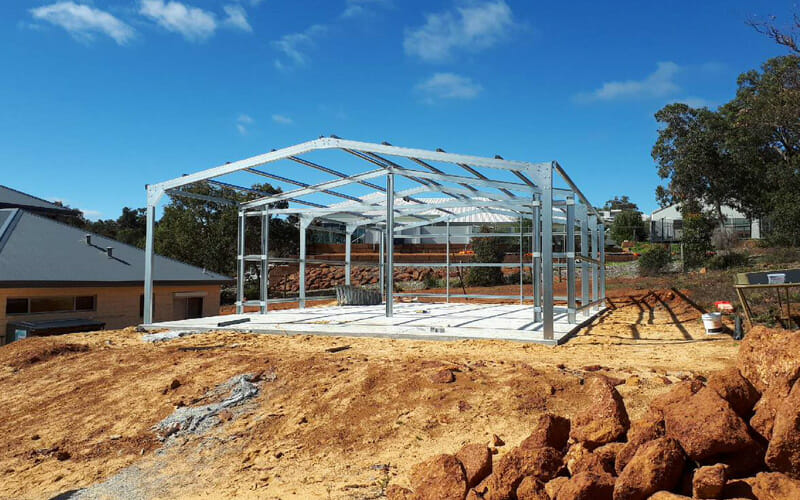 Purpose
What will the shed be used for? Is it meant for storage or as a workspace? What kind of access is required into & around the shed. It is worthwhile really considering how much you will need to fit inside including storage space, shelving, benches, vehicles or other equipment and still have the room you need to move inside. Future proofing the shed is also important to consider if you will need more space in the near future.
For workspaces, think about the materials and equipment, such as machinery, benches, exfiltration & exhausts, internal coverings & insulation as well as any other features you plan on installing within the space such as a hoist. At Spinifex Sheds, we 3D design all of our sheds in our software to make sure we account for all your requirements and our experienced team can help you plan and decide on the best-sized space to fit your needs.
Budget
Budget is a defining factor when it comes to the size and structure you intend to build. Not all sheds are the same and we can provide guidance on the optimal size to fit within your budget while meeting your requirements. Costs will differ depending on the roof spans, ability to stand up to cyclones & many other factors. It is best to consult with a Shed builder like ourselves to be able to get the best value for your budget. With Spinifex Sheds, we have a buy now, pay later system that offers payment flexibility for our customers.
Future Expansion
It is a good idea to consider options for any future expansion and the space that you might need. If your business expands or you need to store 2 cars instead of 1, these things will be much easier to achieve if planned for. Even the purpose of the shed may evolve entirely over time, based on your future needs or a new owner who may not use if for the same purpose. It is important to take these factors into consideration when choosing the right size to maximise its capacity to adapt to your needs and provide future value to your property.  Talk to our team about the best way to plan for any future expansion and how we can help.
Building Regulations
Finally, be aware of any building regulations regarding the placement and size of the shed. Every area is different and will have varying rules about what sizes are permitted. It may be necessary to apply for planning permission and a building permit, our team can provide guidance on any regulations in your local area and even manage the whole approval process for you so you don't have to.
Looking to build a shed but not sure where to start? As a local independent Ranbuild dealer, we offer an extensive range of fully customisable options, from small projects such as carports, or residential workshops and garages, to large industrial and commercial sheds. We'll manage your entire project from shire applications to installation so you don't have to worry! Our sheds are made from 100% Australian-made Bluescope Steel complete with Colorbond or Zincalume cladding that is designed to withstand the harsh Australian conditions.  Call us at (08) 9390 4662 to speak with our team and start building your shed today!